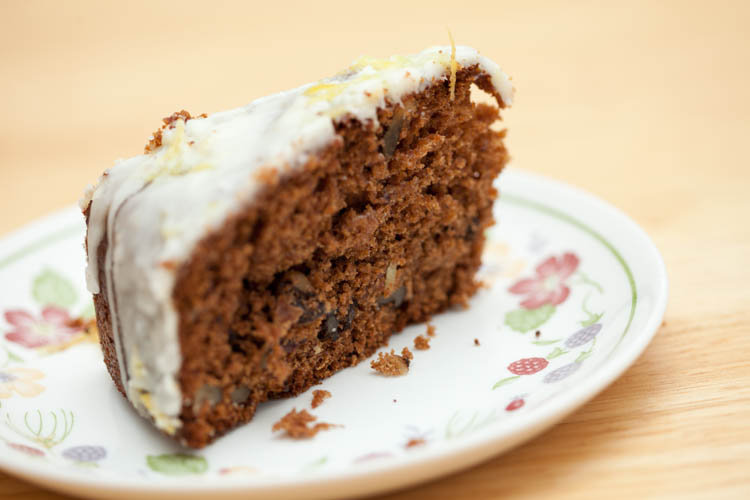 A dark spiced sponge dotted with pieces of date and walnut, topped off with lemon icing.
Ingredients
For the cake
225 ml (8 fl oz or 1 cup) Boiling water 1 tsp bicarbonate of soda 30 g (1 oz or 1/8 cup) butter or baking margarine 1 egg 140 g (5 oz or 2/3 cup packed) soft dark brown sugar 1 tsp vanilla essence 200 g (7 oz or 1 1/8 cups) dates, pitted and roughly chopped 85 g (3 oz or 1/2 cup & 1 tbsp) ground almonds 85 g (3 oz or 3/4 cup) chopped walnuts 225 g (8 oz or 1 3/4 cups) plain flour 2 tsp baking powder 1/4 tsp salt 1 tsp mixed spice 1 tsp cinnamon 1/2 tsp ground cloves 1/2 tsp ground nutmeg
For the icing
115 g (4 oz or 7/8 cup) icing sugar grated rind of half a lemon 15g (1 oz or 1 tbsp) melted butter or baking margarine 1 tbsp lemon juice 1 dessertspoon single cream or milk
Iced Date & Walnut Cake

Recipe

Grease a 18 - 20 cm (7 - 8 inch) cake tin with a loose base.

Pre-heat the oven to 180°C (350°F or gas mark 4 or 160°C fan oven).

In a small bowl or jug add the boiling water to the dates. Add the bicarbonate of soda and butter as well, then stir until the butter has melted.

In a large bowl beat the egg. Then add the sugar and beat again.

When the date mixture has cooled (is warm rather than hot), add to the egg and sugar mixture. Sift in the flour and spices, and add all the other ingredients. Mix well.

Pour the mixture into the tin, ensuring it spreads to the sides evenly.

Bake in the oven for about 1 - 1 1/4 hours. When cooked you should be able to insert a skewer into the centre of the cake and it should come out clean. If the end is sticky, then the cake needs more time baking.

When the cake is cooked, leave it to cool in the tin for a few minutes before turning out onto a wire rack.

When the cake has cooled, mix all the icing ingredients together in a small bowl.

Place an upturned tea plate on a dinner plate (or on a surface you don't mind getting icing on). Then place the cake on the upturned plate. Pour the icing on top of the cake and let it dribble down the sides.

If you don't like waste (like me), you can scrape up the icing that dribbles off the cake and add it back on the top.

Enjoy!