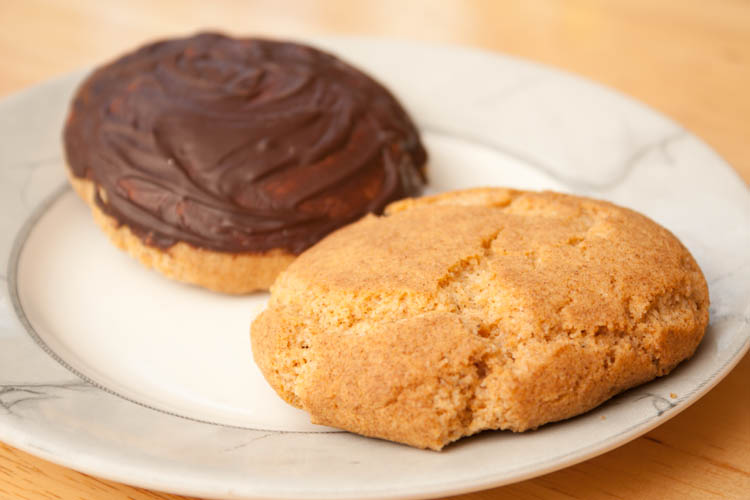 Grantham Gingerbreads have a sweet crunchy shell with a hollow honeycomb centre. They are quite different to the other forms of gingerbread.
Ingredients
250 g (9 oz or 2 cups) self raising flour 1½ tsp ground ginger 115 g (4 oz or 1/2 cup) butter or baking margarine (softened) 340 g (12 oz or 1 2/3 cups) caster sugar 1 egg, lightly beaten
Grantham Gingerbread

Recipe

Preheat the oven to 150°C (300°F or Gas mark 2 or 140°C for a fan oven).

Prepare two baking sheets by either greasing or lining with a non-stick tray liner.

In a medium bowl sift the flour and ginger, then mix together.

In a large bowl cream the butter and sugar together. I use a handheld electric whisk for this.

Add the egg to the butter-sugar mix about a third at a time, mixing in well.

Add the flour-ginger to the rest of the mix about a third at a time. Use a spoon to mix it in. The mixture will get quite stiff when you mix in the final third of the flour.

When well mixed take a piece of dough and roll into a ball about the size of a walnut (two tablespoons). Place on a baking sheet and do the same with the rest of the dough. There is no need to squash the dough balls at all, they naturally flatten out when cooking.

Bake in the centre of the oven for 40-45 minutes.

When cooked cool on a wire rack. I added dark chocolate as a topping to half of my batch.

Store in an airtight container or biscuit / cookie tin.
21 Responses to "Grantham Gingerbread Recipe (Ginger Crunchies)"