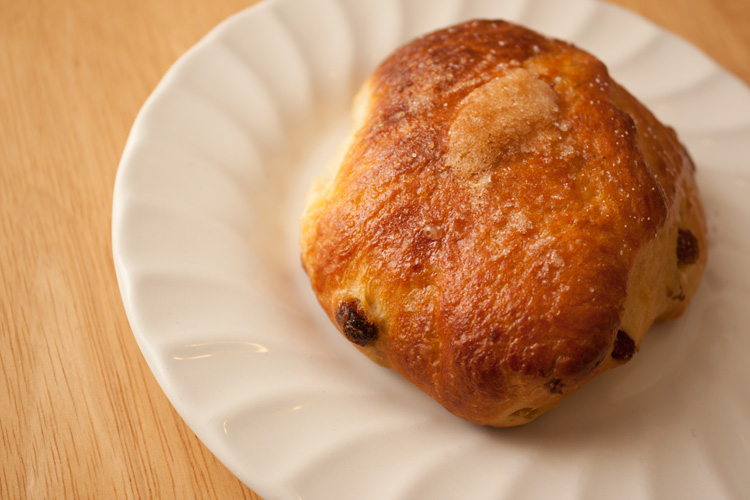 Slightly lemony fruited buns. Taste great as is, or can be sliced and toasted like a teacake.
Ingredients
450 g (1 lb or 3 1/4 cups) strong plain (bread) flour 14 g (2 packets) fast action dried yeast 1 tsp salt 15 g (½ oz or 3 tbsp) dried milk powder 85 g (3 oz or 3/8 cup) butter or baking margarine 85 g (3 oz or 1/3 cup + 1 tbsp) sugar 150 ml (1/4 pt or 5 fl. oz or 5/8 cup) water 2 eggs, beaten 150 g (5 1/4 oz or 1 cup) sultanas 50 g (1 3/4 oz or 1/3 cup) mixed peel Grated rind of 1 small lemon Beaten egg to glaze Sugar to glaze
Bath Buns

Recipe

In a large bowl mix together the fast action yeast, flour, and salt.

Rub in the butter, then stir in the sugar and dried milk powder.

Add the beaten egg and water, then stir in.

Tip the mixture out onto a flat surface. The mixture may seem quite dry and not have mixed in all the flour. But when you start kneading it, it will soon absorb the unmixed flour. Knead for about 5 - 10 minutes, until the dough becomes smooth.

Place the dough back in the bowl. Cover the top of the bowl with cling film / plastic wrap. Place the bowl in a warm place around 37ºC (100ºF) for about 30 minutes. (I use the top oven set to minimum temperature).

Remove the dough from the bowl and flatten it out somewhat. Add the fruit and rind to the center of the dough, then fold the dough up around it. Now knead the dough for a few minutes until the fruit is distributed evenly throughout the dough.

Put the dough back in the bowl and cover with cling film / plastic wrap again. Place in a warm place and this time leave to rise for about 40 minutes - 1 hour, or until the dough has doubled in size.

Turn out the dough onto a lightly floured board and cut into around 16 pieces.

Shape into rounds, then place in deep tins (e.g. non-stick roasting tins). Glaze the buns by brushing with beaten egg, then generously sprinkle with sugar or crushed sugar cubes.

Cover the tops of the tins with cling film / plastic wrap, then put in a warm place to rise for around 30 minutes - 1 hour.

Pre-heat the main oven (not where the buns are rising!) to 220ºC (425ºF or gas mark 7 or 200ºC fan).

When the buns have doubled in size remove the plastic wrap from the trays. Bake in the oven for around 12 - 15 minutes, or until the tops of the buns are golden brown.

After cooking, cool on a wire rack.