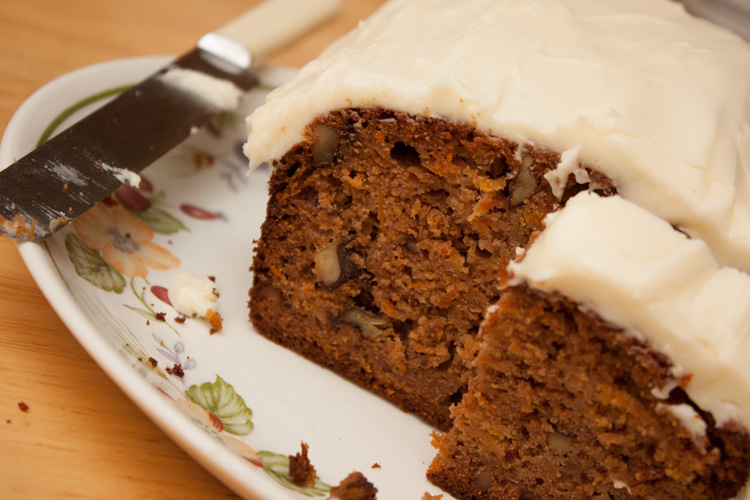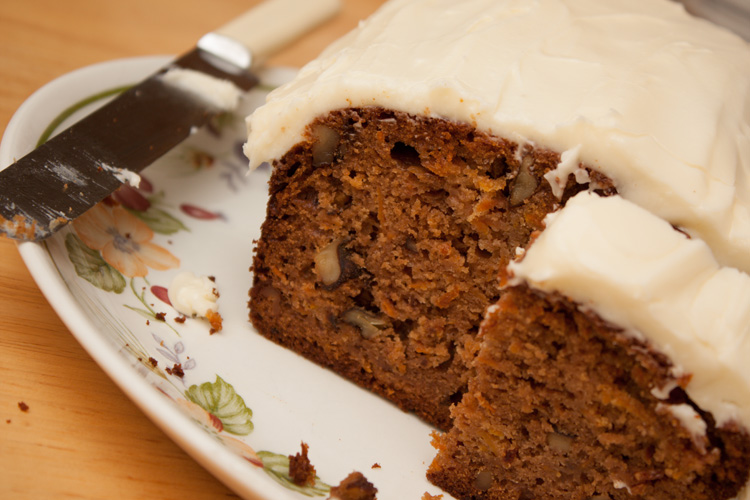 A combination between carrot cake and walnut cake, with a slight orange taste, and topped off with delicous creamy icing.
Ingredients
For the cake
200 ml (7 fl oz) sunflower or groundnut oil 4 eggs 4 tbsp clear (runny) honey 225 g (8 oz) plain flour 2 tsp baking powder ½ tsp bicarbonate of soda pinch salt 155 g (5½ oz) grated carrot zest of 1 orange 85 g (3 oz) chopped walnuts
For the topping
75 g (2½ oz) soft / cream cheese or creme fraiche 2 tbsp butter or margarine or soft spread 340 g (12 oz) icing sugar 1 tsp vanilla essence
Carrot, Orange, and Walnut Cake

Recipe

Grease a 2lb loaf tin using butter or margarine.

Pre-heat the oven to 180°C (350°F or gas mark 4 or 160°C for a fan oven).

In a large bowl whisk together the oil, eggs, and honey until combined.

Add the flour, baking powder, bicarb, and salt, then stir in well. Then mix in the grated carrot, orange zest, and chopped walnuts.

Pour the mixture into the loaf tin and cook in the centre of the oven for 1 hr 15 mins - 1 hr 30 mins. When cooked you should be able to insert a skewer into the cake and have it come out clean (not sticky). If the cake looks cooked on top part-way through the baking, cover with foil to prevent burning.

Cool the cake in the tin on a wire rack. Once reasonably cool, turn out of the tin and finish cooling the cake on the rack.

To make the creamy icing, start by mixing together the cream cheese and butter. Then sift and mix in the icing sugar a bit at a time. Finally add the vanilla essence, and mix that in.

When the cake is fully cooled, spread the top thickly with the icing.
11 Responses to "Carrot, Orange, and Walnut Sponge Cake Recipe"