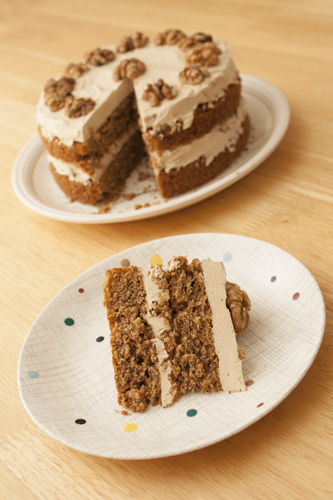 A coffee and walnut sponge cake with a delicious coffee mousseline filling and topping.
Ingredients
For the cake
110 g (4 oz) Self raising flour 1 tsp baking powder 110 g (4 oz) baking margarine (at room temperature) 110 g (4 oz) caster sugar 2 large eggs 50 g (2 oz) walnuts, very finely chopped 1 tbsp instant coffee 1 tbsp hot water 1 tsp cold water
For the Coffee Cream Mousseline
150 g (5 oz) unsalted butter 60 g (2½ oz caster sugar 2 large egg yolks 4 tbsp water 1 tbsp instant coffee 1 tbsp hot water
For decoration
Walnut halves
Coffee & Walnut Cake

Recipe
Making the cakes
Pre-heat the oven to 170°C (325°F or gas mark 3 or 150°C fan oven).
Grease and line two 18 cm (7 inch) cake tins, about 2.5 cm (1 inch) deep.
Mix the instant coffee granules with the tablespoon of hot water, ensuring all the granules dissolve to create coffee essence.
Add all the ingredients except the cold water to a bowl and mix to a smooth creamy consistency (use an electric whisk).
Whisk in the teaspoon of cold water, then divide the mixture equally between the two tins. Spread the mixture out evenly to the edges of the tins.
Cook in the oven for half an hour.
Turn the cakes out to cool on a wire rack.
After about an hour the cakes will have nearly cooled, so you can start work on the filling.
To make the Coffee Cream Mousseline
As with the cake, dissolve the instant coffee powder in the hot water to form a coffee essence.
Add the four tablespoons of water to the sugar in a saucepan. Stir to dissolve the sugar while heating the saucepan on a hob. After the sugar has dissolved, keep heating until the mixture starts to boil, then turn the heat down and simmer for 15 minutes.
Add the two egg yolks to a bowl, and start whisking. Pour the sugar solution into the bowl, while still whisking.
When the sugar solution and yolks are mixed, whisk in one fifth (25 g or 1 oz) of the butter. Continue whisking and adding one fifth of the butter until all the butter is added and you have a smooth fluffy cream.
Whisk in the dissolved coffee.
Putting it all together
When well mixed, use half the cream as a filling between the cake layers, and the other half on top.
Top off with walnut halves.