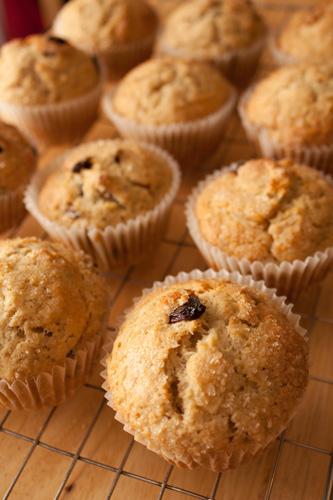 Very easy to make Muffins with a nice fruit flavor of raisins and orange.
Ingredients
330 g (11 3/4 oz) plain flour 2 tsp baking powder 1/4 tsp baking soda 1 tsp salt 100 g (3 1/2 oz) granulated sugar Grated zest of 1 orange 160ml (2/3 cup) orange juice 115 g (4 oz) butter (melted) 2 eggs 1 tsp mixed spice 105 g (3 3/4 oz) raisins Demerara sugar for topping
Orange & Raisin Muffins

Recipe

Pre-heat the oven to 180°C (350°F or Gas mark 4).

Add all the ingredients to a bowl and mix well.

Add muffin cases to a muffin tin, then divide the mixture evenly between the cases. The recipe makes about 12 muffins.

Sprinkle demerara sugar on top of the muffins, then bake in the oven for about 25 minutes until golden brown.

Cool in the tray for a few minutes. Then remove the muffins and place on a wire rack to finish cooling.