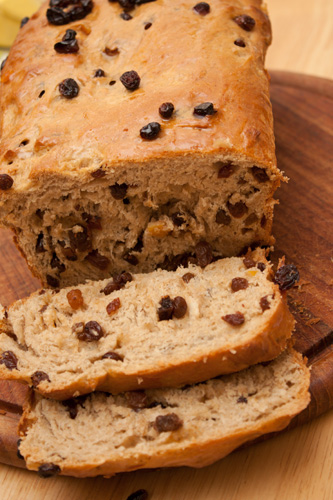 Bara Brith is a very fruity spiced bread. The name means 'speckled bread' in Welsh.
Ingredients
450 g (1 lb) strong (bread) flour 7 g (1 packet) fast action dried yeast 225 ml (8 fl oz) milk, warmed 55 g (2 1/8 oz) brown sugar 1 tsp salt 75 g (3 oz) butter or baking margarine 1 egg, beaten 2 tsp mixed spice 350 g (12 oz) mixed dried fruit
Bara Brith Fruit Loaf

Recipe

Sift the flour into a large bowl, then add the salt, sugar, and fast action yeast. If you are using yeast that is not fast action, then add it to the warm milk at this point instead of with the dry ingredients.

Cut the butter into pieces, then rub into the flour until the mixture looks like fine breadcrumbs.

Stir in the mixed spice, then stir in the egg and warm milk.

When the mixture is reasonably well mixed, turn out and knead on a floured surface for 10 minutes.

Put the dough back in the bowl and cover the top of the bowl with a piece of plastic wrap / clingfilm. Put the bowl in a warm place (I use the top oven set to minimum temperature), and leave to rise for 1½ hours.

Grease a 2 lb loaf tin.

When risen, the dough should have doubled in size, if not, then leave to rise a bit longer. Turn the dough out onto a work surface, and knead in the mixed fruit. After you kneaded in most of the fruit, you'll probably find you get to a point where the dough won't pick up any more fruit. You'll just have to push this fruit into the dough by hand.

Pat the dough into a rectangular shape, and then place in the tin, ensuring the dough is evenly distributed.

Put the tin inside a plastic bag, ensuring there is space for the dough to rise above the top of the tin without touching the bag. Place in a warm place and leave to rise for 30-45 minutes.

Pre-heat the oven to 190°C (375°F or gas mark 5 or 170°C for a fan oven).

When risen the dough should be above the top of the tin. Remove the plastic bag and place the tin near the bottom of the oven. After 15 minutes the loaf should be lightly browned on top. Cover the top of the tin with a piece of foil and cook for a further 25 minutes.

When cooked turn the loaf out and cool on a wire rack. Brush the top of the loaf with runny honey to give it a sticky sweet top.

Slice and serve spread with butter. The slices also go very well toasted and spread with butter.