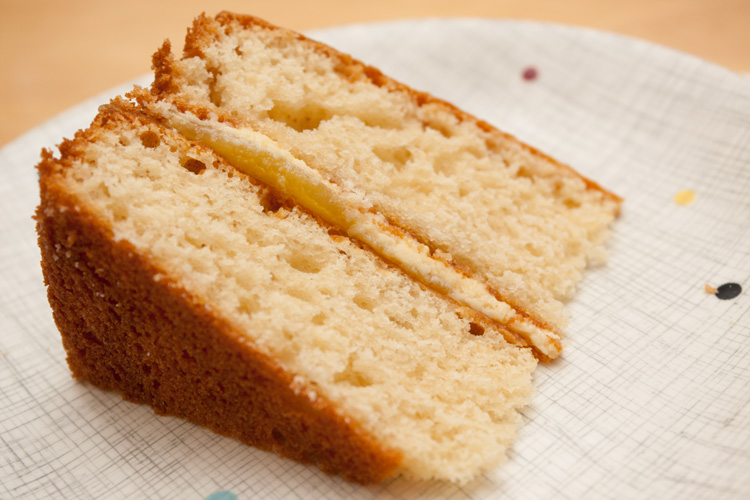 Gold cake is named for the golden color of sponge imparted by the egg yolks. It can be a good cake to make if you have some egg yolks left over from making meringues or anything else that needs egg whites.
Ingredients
For the cake
160 g (5 3/4 oz) sugar 85 g (3 oz) butter 3 egg yolks, beaten 120 ml (4 fl oz or 1/2 cup) milk 200 g (7 oz) Self Raising flour 1 tsp Vanilla essence / flavoring
For the buttercream filling
40 g (1½ oz) butter or margarine, softened 85 g (3 oz) Icing sugar 1 tbsp milk 1 tsp Vanilla essence / flavoring
Jam or marmalade for filling also
Gold Sandwich Cake

Recipe

Pre-heat the oven to 180°C (350°F or Gas mark 4).

Grease and line two 16 cm (6½ inch) cake tins.

Cream together the butter and sugar.

Mix in the beaten egg yolks.

Add the milk and vanilla essence and mix well.

Fold in the flour.

Divide the mixture evenly between the two tins, spreading the mixture to the sides of the tins. Cook in the oven for 35 minutes.

When cooked test the cake with a skewer to make sure the skewer comes out clean and not sticky. If sticky, cook for a little longer.

Cool the cakes in the tins for 10 minutes on a wire rack. Then turn out, remove the lining, and cool on a wire rack.

Cream together the buttercream ingredients in a bowl until well mixed.

When the cakes are cool, spread the top of one cake with jam or marmalade. Spread the bottom of the other cake with the buttercream. Sandwich the two cakes together. You could also top the cake with icing if you like.