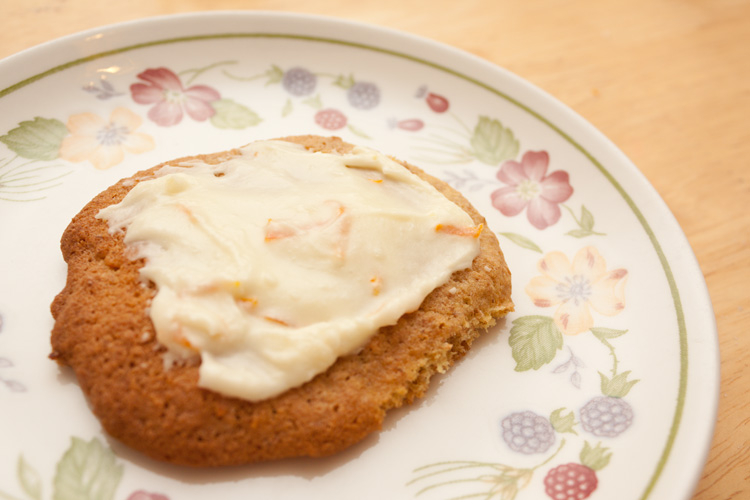 These orange cookies are very soft, with an almost cake-like texture, and topped off with orange icing. Made with wholewheat flour, they're healthier than most other cookies too. The recipe uses roughly two oranges - zest them, and then squeeze them for the juice.
Ingredients
For the cookies
155 g (5½ oz) unsalted butter 150 g (5¼ ounces) sugar 1 tsp vanilla extract ½ tsp baking powder ½ tsp bicarbonate of soda ½ tsp salt 1 large egg 120 ml (4 fl oz or ½ cup) orange juice 2 tbsp grated orange zest 2 cups (8 ounces) whole wheat flour
For the icing
225 g (8 oz) icing sugar 25 g (1 oz) unsalted butter or margarine, softened 1 tbsp grated orange zest 1/4 tsp vanilla extract 1/8 tsp salt 2 tbsp orange juice
Orange Drop Cookies with Icing

Recipe

Preheat the oven to 180°C (350°F or Gas Mark 4).

Cream together the sugar, butter, vanilla, baking powder, bicarbonate of soda and salt.

Beat in the egg, followed by the orange juice and orange zest.

Fold in the flour.

Line trays with non-stick baking sheets, and add the cookie dough in dollops. Unless you have a large oven and lots of baking sheets, you'll have to cook the dough in batches. Remember to clean off the sheets after cooking one batch before dolloping the next lot of dough on the sheets.

Bake for around 15 minutes, until the cookies are brown around the edges. Cool on the trays for 10 minutes on a rack before transferring them individually to the rack.

To make the icing, mix together the icing sugar, butter, orange zest, vanilla and salt until well combined. Add orange juice bit by bit until the mixture is softer and more spreadable.

When the cookies have cooled, spread the icing on them.