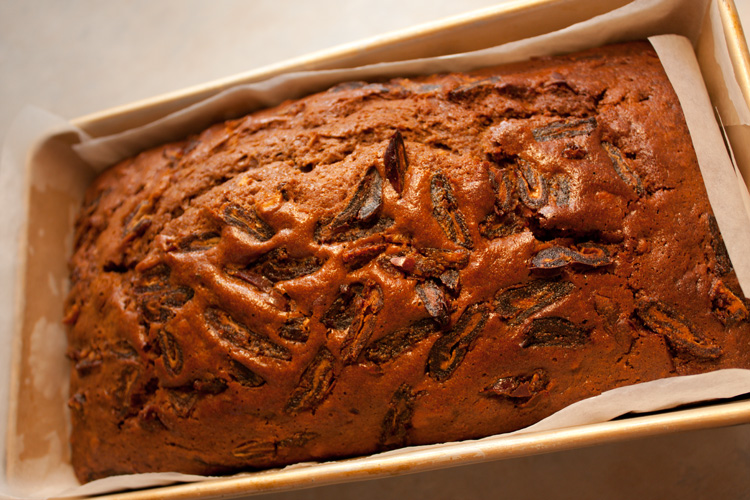 Tasty Gingerbread loaf cake dotted with pieces of chopped dates and walnuts. This cake improves with keeping, so it is a good idea to make it a couple of days before you want it.
Ingredients
110 g (4 oz) Baking Margarine or Unsalted Butter 175 g (6 oz) Golden Syrup 50 g (2 oz) Black Treacle 150 ml (1/4 pt) Milk 2 large eggs, beaten 225g (8 oz) plain flour 1 tsp mixed spice 2 tsp ground ginger 1 tsp bicarbonate of soda110 g (4 oz) stoned dates 50g (2 oz) walnuts (chopped)
Date & Walnut Gingerbread Cake

Recipe

Grease and line a 2lb loaf tin, greasing the lining on both sides.

Chop the dates and walnuts. Try to chop the dates individually so they don't all stick together.

Pre-heat the oven to 150°C (300°F or gas mark 2 or 140°C fan oven).

Melt the margarine, golden syrup and treacle together. You can do this in a saucepan on a low heat, or I just used the microwave. Be sure to stir the mixture regularly.

Let the mixture cool for a few minutes, then mix in the milk.

Add the beaten eggs and stir them in.

Sift the flour, spices, and bicarbonate of soda into a separate bowl.

Add around a fifth of the flour mix into the syrup mixture, and whisk well. When mixed in, add another fifth of the flour, then whisk that in. Continue until the flour is completely mixed in and you have a smooth mixture.

Fold in (stir in a figure of 8 pattern) the chopped walnuts and two thirds of the chopped dates.

Pour the mixture into the loaf tin.

Carefully distribute the rest of the chopped dates on top of the mixture.

Cook in the middle of the oven for 1½ hours.

After cooking leave to cool completely before removing from the tin. Store in a tin.