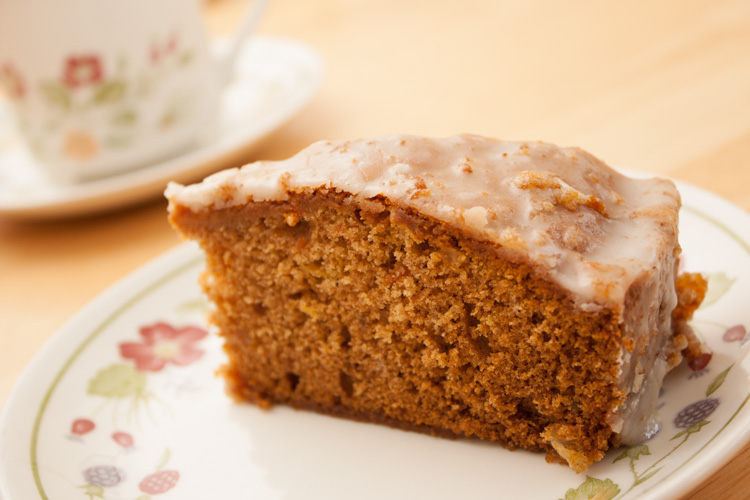 Honey, Lemon, and Spice Cake is a soft sponge cake made with fruit peel and honey, and drizzled with lemon icing. Unlike many cakes, this cake improves with keeping.
Ingredients
For the cake
225 g (8 oz) plain flour 115 g (4 oz) butter or baking margarine 75 g (3 oz) sugar 3½ tsp mixed spice Finely grated zest of 1 lemon 1 egg, beaten 75 g (3 oz) runny (clear) honey 1 tsp bicarbonate of soda 3 tbsp water 50 g (2 oz) candied mixed peel
For the icing
135 g (4 oz) icing sugar 1½ tbsp lemon juice 2 tbsp water
Honey, Lemon, and Spice Cake

Recipe

Use butter or baking margarine to grease a 20 cm (8 inches) round cake tin or 18 cm (7 inches) square cake tin.

Pre-heat the oven to 170°C (325°F or gas mark 3 or 150°C fan oven).

In the blender mix together the flour, spices, sugar, lemon zest, and butter. If you don't have a blender, rub the butter into the other ingredients by hand in a large bowl. You should have a crumbly mixture when the butter is rubbed in.

Prepare the honey by warming it slightly. I put it in a small microwaveable proof bowl, and put it in the microwave at medium power for half a minute. Alternatively you can put the honey in a small bowl, then float the bowl in some hot water.

Add the beaten egg to the mixture, and stir it in, followed by the warm honey.

In a small bowl mix the bicarbonate of soda with 3 tablespoons of water, and stir well. Pour this into the rest of the mixture, and beat the mixture well.

Beat in the mixed peel, then empty the mixture into the tin. Spread the mixture evenly across the tin.

Bake in the center of the oven for about 40 minutes. When cooked you should be able to insert a skewer into the center of the cake and pull it out without the end feeling sticky. If the cake looks well browned on top after 30 minutes, but is not cooked through, cover with foil to prevent the top from burning.

When the cake is cooked, cool in the tin on a wire rack for 10 minutes. Then turn it out onto the wire rack.

Sift the icing sugar into a bowl. Add the lemon juice and water, and mix well. The icing should be quite runny. Place a plate under the cake on the wire rack, then dribble the icing all over the cake.

After a few hours the icing on the cake should have dried enough to let you handle it delicately. Place on the plate with all the run-off icing. The cake will soak in some of the icing. Store in a tin and enjoy!
2 Responses to "Honey, Lemon, & Spice Cake Recipe"