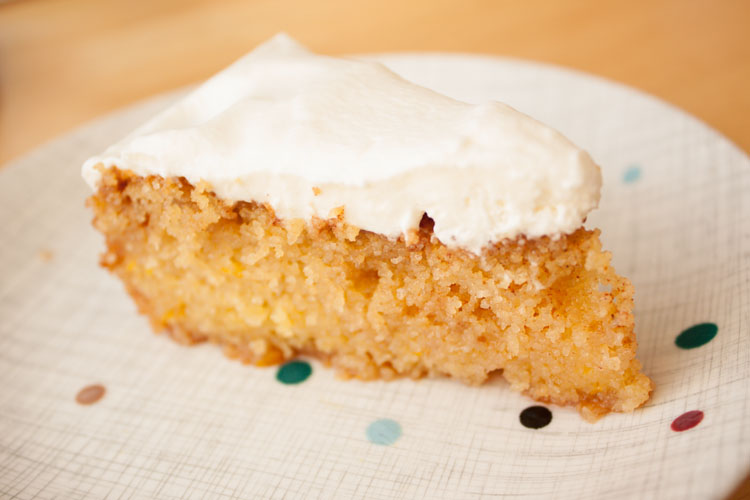 This cake is soaked through in a sweet orange and cinnamon syrup. The recipe uses semolina and ground almonds instead of wheat flour, which results in a cake that is deliciously moist without being soggy.
Ingredients
For the cake
110 g (4 oz) sugar 110 g (4 oz) butter or baking margarine Zest of 1 orange 2 eggs, beaten 170 g (6 oz) semolina 85 g (3 oz) ground almonds 2 tsp baking powder 3 tbsp orange juice
For the syrup
140 g (5 oz) sugar 4 tbsp water 3 tsp lemon juice 3 tbsp orange juice 2 tsp ground cinnamon
For the topping
150 ml (1/4 pt) double or whipping cream (whipped) or thick Greek yogurt
Moist Orange Cake

Recipe
To make the cake
Pre-heat the oven to 200°C (400°F or Gas mark 6 or 180°C for a fan oven).
Grease and line a 20 cm (8 inch) cake tin.
Cream together the butter and sugar until light and fluffy. (I use an electric hand whisk for this part).
Beat in the beaten eggs a little at a time. Adding them bit by bit helps to prevent the mixture from curdling. (Though it's not a disaster if the mixture does curdle). Stir in the orange zest and orange juice as well.
Weigh the dry ingredients into a bowl and mix together. Then fold into the rest of the mixture. (Stir in a figure of 8 pattern).
Empty the mixture into the tin and spread evenly to the sides. Cook in the center of the oven for 10 minutes, then reduce the temperature to 180°C (350°F or Gas mark 4 or 160°C for a fan oven). Cook for a further 30 minutes at the lower temperature.
Cool the cake in the tin for 10 minutes on a wire rack. Then turn out, remove the lining, and cool on the wire rack.
To make the orange syrup
When the cake has cooled, mix the sugar, water, and cinnamon in a saucepan. Bring to the boil then simmer for 5 minutes. Keep stirring to prevent the mixture from sticking to the saucepan too much.
Take the pan off the heat. Add the lemon and orange juice, stirring well. Transfer the cake to a large plate, then pour the syrup over the cake. It will seem like there is far too much syrup, but don't worry.
Cover the cake and leave overnight for it to absorb the syrup.
Before serving, cover the cake with whipped cream or thick Greek yogurt.