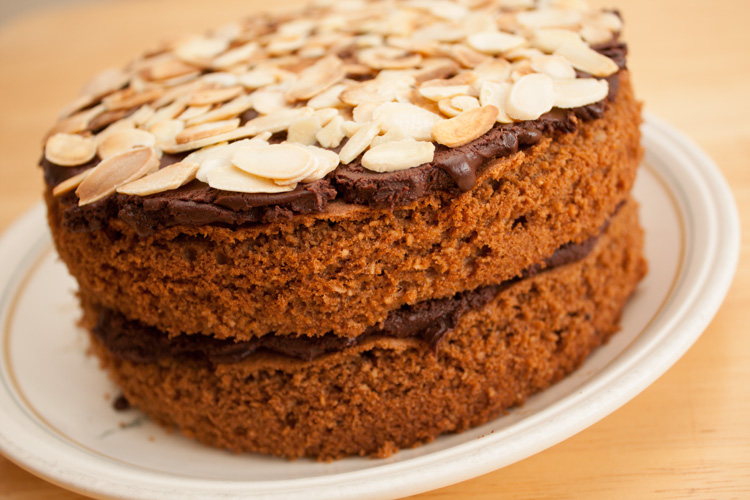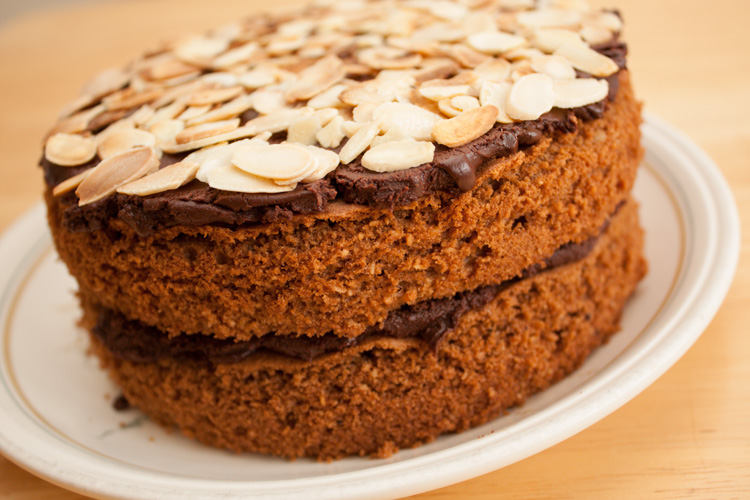 Chocolate Almond Sponge Cake is a simple to make all-in-one sponge cake with dark chocolate filling and topping, topped off with lightly toasted flaked almonds.
Ingredients
For the cake
110 g (4 oz) self raising flour 1 tsp baking powder 110 g (4 oz) baking margarine or butter, softened 110 g (4 oz) brown sugar 2 large eggs 50 g (2 oz) ground almonds 1 tbsp cocoa powder 2 tsp hot water
For the filling and topping
225 g (8 oz) plain chocolate 1 tbsp water 25 g (1 oz) flaked almonds
Simple Chocolate Almond Sponge Cake

Recipe
To make the cake
Grease two 18 cm (7 inch) sandwich cake tins. The tins should be at least 2.5 cm (1 inch) in depth. Line the bottom of the tins, greasing both sides of the lining.
Pre-heat the oven to 170°C (325°F or gas mark 3, or 150°C for a fan oven).
Mix the cocoa powder with the tablespoon of hot water. (This isn't essential, but ensures you won't end up with any bits of unmixed cocoa in the cake. You might note I didn't bother when I made the cake.)
Put all the ingredients in a large bowl and mix together with an electric whisk.
Divide the mixture equally between the two tins, spreading it to the sides. Put the tins in the oven to cook for 30 minutes.
When cooked you should be able to insert a skewer into the cake and it come out clean (not sticky). Cool the cakes in the tins for 10 minutes, then turn out onto a wire rack and remove the paper from the bottoms.
To make the filling and topping
When the cake has cooled (it doesn't need to be completely cool though), you can make the filling and topping.
Start by melting the chocolate. I used the microwave to do this (be careful not to burn the chocolate if using a microwave). Alternatively you can put the chocolate in a heatproof bowl over a saucepan of hot water.
Add 1 tablespoon of cold water to the melted chocolate. Stir it in and the chocolate should thicken up quite quickly. Spread half the chocolate on top of one cake, then sandwich the other half of cake on top.
Spread the other half of the chocolate on top of the cake.
Lightly toast the flaked almonds under the grill. Keep an eye on them as they toast quite quickly. Then place them on top of the cake.
For storing the cake, use an airtight tin.
3 Responses to "Simple Chocolate and Almond Sponge Cake Recipe"