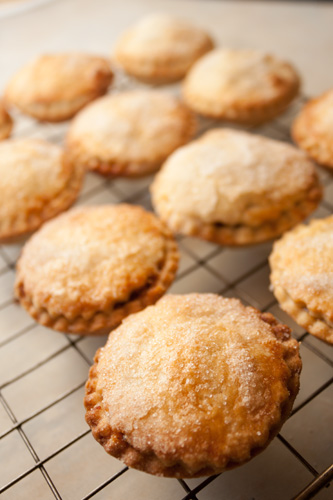 Mince Pies are a popular small cake around Christmas time. They are made with mincemeat, a pre-made mix of apple, mixed fruit, sugar, and suet, which is usually sold in jars.
Ingredients
Makes approx 17
For the pastry
225 g (8 oz) plain flour 1/4 tsp salt 115 g (4 oz) butter or baking margarine 55 g (2 oz) sugar 3-4 tbsp water
For the filling
180 g (6½ oz) Mincemeat
To glaze
Egg white (slightly beaten) Sugar
Mince Pies

Recipe

Add flour, salt, sugar to blender. Chop marg into blocks and distribute on top of mix in blender.

Blend for a couple of minute. Add water a bit at a time, allowing about 30s for the water to become mixed in properly. When the pastry clumps together, remove.

Roll out to 3-5mm thick. Cut with a 7.5 cm (3 inches) cutter for bases and 6 cm (2½ inches) for the tops.

Grease well a shallow muffin tin / patty tin, then press the pastry bases into the tin. Add approx 1 tbsp mincemeat to each pie, it should fill the pie to the top.

Wet the edges of pie the lids, then press them on top of the pies.

Brush the tops with egg white, then sprinkle sugar on top.

Cook at 200°C (390°F or Gas Mark 6, 180°C if you're using a fan oven) for about 20 minutes.

Cool for 10 minutes in the tin, then remove. You may need to use a knife around the edge where the cooked egg white can bind the pies to the tin.