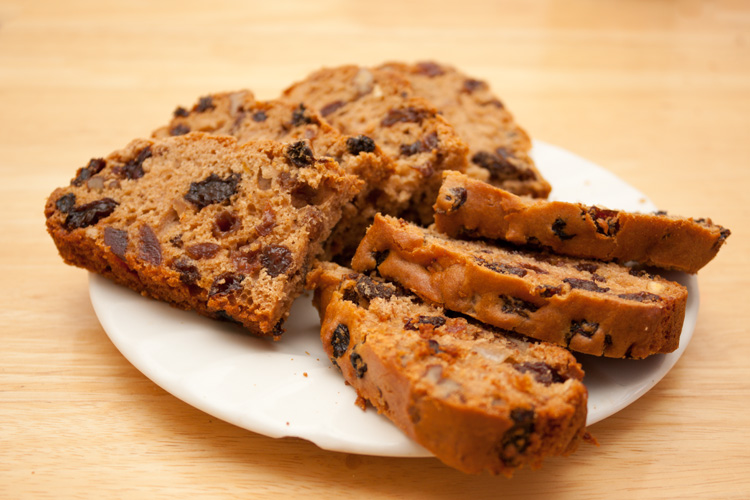 This makes a large very fruity cake, suitable for feeding a number of people, for example at a school or church event. The cake keeps well, so you can also make it for your family, or reduce the measurements accordingly and make a smaller cake. Normally you'd serve the cake cut into slices spread with butter, but it also makes a nice fruit cake by itself. Note that despite being called Irish Tea Cake, this recipe doesn't actually contain any whisky. Of course, you can always add some yourself if you like ;).
Ingredients
275 ml (½ pint) Strong cold tea 495 g (1 lb) Dried mixed fruit 225 g (8 oz) Demerera sugar 110 g (4 oz) Walnuts, broken or chopped 110 g (4 oz) Glacé cherries, quartered and washed 1 large egg 2 tbsp milk 450 g (1 lb) Self Raising flour
Irish Tea Cake Tray Bake

Recipe

Add the dried mixed fruit and demerera sugar to the tea, and leave to soak overnight.

The next day pre-heat the oven to 170°C (325°F or Gas mark 3). Grease and line a tin measuring approx 29 x 23 cm (11½ x 9 inches).

Beat the egg and the milk together in a small bowl. Add this, and all the other ingredients together in a large bowl and mix well.

Pour the mixture into the tin and cook for 1 hr 10 mins. When cooked it should be golden brown and you should be able to insert a skewer and pull it out without any stickyness on the skewer.

When cooked turn out on to a wire rack (no need to leave it in the tin to cool first).