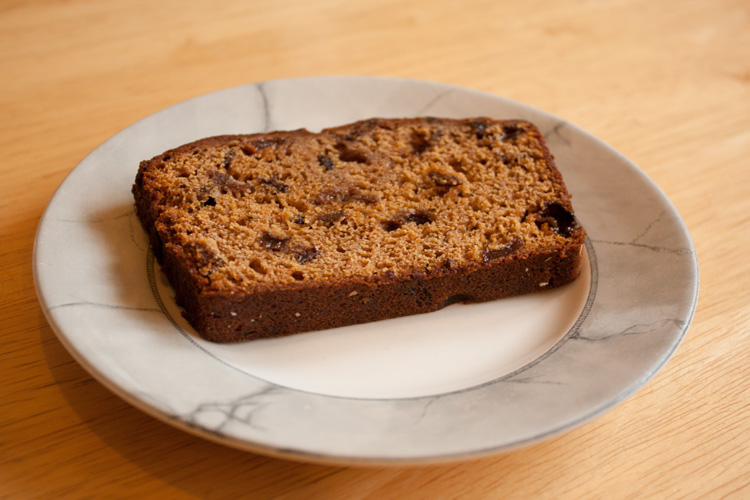 This tea loaf recipe makes a nice sweet, moist, fruity cake with a slight treacle flavor. The cake is delicious as-is, or you can butter the slices like a standard tea loaf.
Ingredients
75 g (2¾ oz) raisins 75 g (2¾ oz) sultanas 75 g (2¾ oz) currants 300 ml (½ pint) cool tea 275 g (10 oz) self-raising flour 200 g (7 oz) soft brown sugar 1 tbsp black treacle 1 egg, beaten 1 tsp ground cinnamon 1 tsp nutmeg
Tea Loaf

Recipe

Make the tea, and weigh out the raisins, sultanas, and currants into a bowl. Once the tea has cooled, pour it onto the fruit. If you are using tea made with leaves, remember to strain the tea so you don't end up with tea leaves in the cake! Leave for at least 12 hours for the fruit to soak.

Once the fruit has soaked, pre-heat the oven to 175°C (325°F or gas mark 3).

Grease a loaf tin around 13x23 cm (5x9 inches).

Add all the rest of the ingredients to the soaked fruit and mix well.

Pour the mixture into the tin, then cook for 1¼ hours. When done, a skewer inserted into the cake should come out clean. If it comes out sticky, cook the cake for a little longer.

Leave for 15 minutes to half an hour to cool in the tin, before turning it out onto a wire rack.

If you have a slice of the cake now while it's still hot, you'll find the crust of the cake is crunchy, while the inside is soft. After the cake has cooled the top will become soft as well.