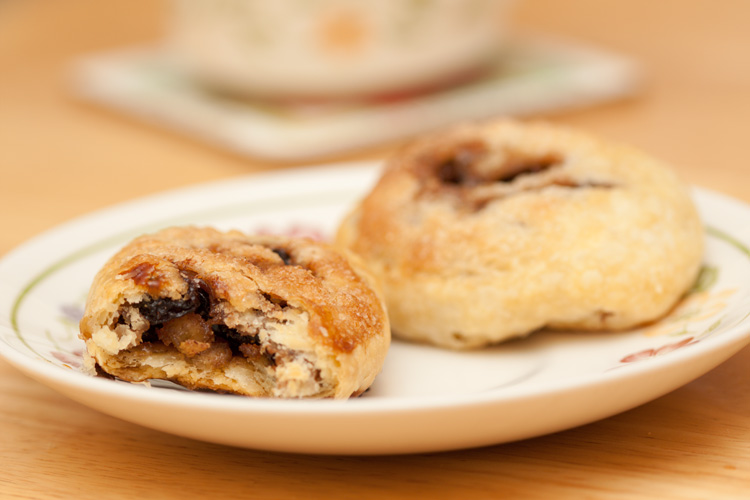 Eccles Cakes are small flaky pastry parcels with a sweet fruit filling. This recipe is based on a Delia Smith recipe, who in turn had received the recipe from her mother.
Ingredients
For the flaky pastry
225 g (8 oz) plain flour 175 g (6 oz) butter or hard margarine pinch of salt cold water to mix
For the fruit filling
75 g (3 oz) butter or hard margarine 150 g (5 oz) soft brown sugar 150 g (5 oz) currants 50 g (2 oz) chopped peel (If you don't have chopped peel you can use 200g (7oz) mixed fruit instead of the currants and peel) 1 tsp cinnamon ½ tsp nutmeg zest or rind of 1 large orange or 1 lemon
For the glaze
Milk Sugar
Eccles Cakes

Recipe

Start by making the pastry. Weigh out the butter, then put it in the freezer (or somewhere cold) while you weigh out the flour into a large bowl.

Take the butter out of the freezer, dip it in the flour (so it is easier to grip), and then use a coarse grater to grate it into the flour. Don't grate it all in one go, after grating a bit lightly mix in with the flour, just enough to coat the butter strands with flour. Grate a bit more, then mix that with the flour, etc. until you have a bowl of flour and grated pieces of butter covered with flour.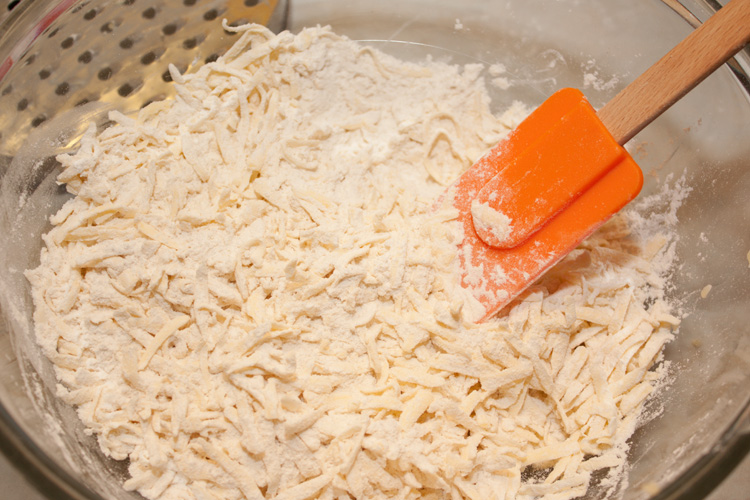 Use a spatula or palette knife, and start to cut the butter into the flour. This is quite hard work, and will probably take at least 5 minutes. When done you should have a crumbly mixture similar to breadcrumbs.
Mix in just enough water to form a dough, then form the pastry into a ball. Wrap in a polythene bag or plastic wrap / cling film, and put in the fridge for half an hour.
While waiting, you can start work on the filling. Melt the butter and then add the rest of the filling ingredients. Mix thoroughly.
When the pastry has had its half an hour in the fridge, turn it out onto a floured surface. Roll it out to around 3 mm (1/8 inch) thick.
Use a cutter to cut the pastry into rounds. I used a 78mm (3 1/16 inch) cutter. If you like them larger, you can place a saucer upside-down on top of the pastry, then cut around it with a knife.
Re-roll the left-over pastry and repeat until it is all cut into rounds.
Divide the filling equally between the rounds, placing a spoonful on the middle of each round.
Now is probably a good time to put the oven on to pre-heat. Set the oven for 220°C (425°F or gas mark 7). Remember to reduce the temperature by about 20°C if you are using a fan assisted oven, i.e. use 200°C.
Brush half the edge of the pastry round with water, then bring both edges up to meet each other and seal together, like a pasty. Now bring the corners up to meet each other in the center, and seal them together (you may need to brush one corner with a little water to make it more sticky).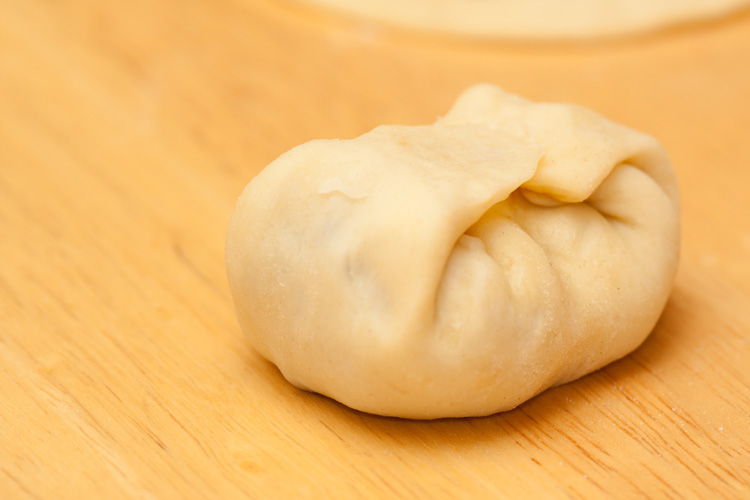 Do the same to all the other rounds, then prepare a couple of trays lined with non-stick baking sheets. Place the cakes with the seal at the bottom on the trays. Leave a reasonable space between each one, as next you should roll them out to around 10-15mm (about ½ inch) thick.
Using a knife make three small cuts across the front of each cake, being careful not to cut too close to the edges. Brush with milk, and then sprinkle with sugar.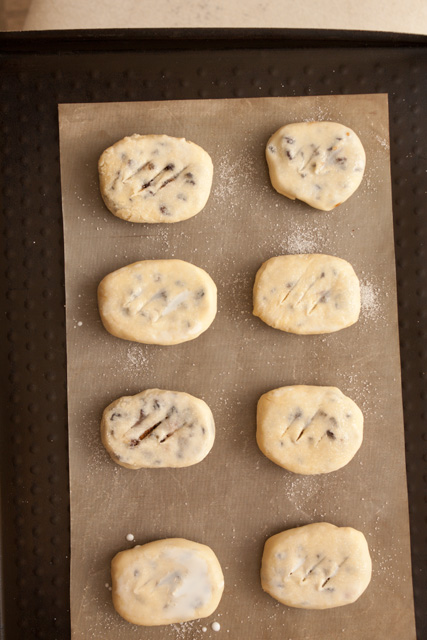 Put them in the oven and cook for 15 minutes or until the pastry turns a nice golden color. You'll probably find that some of the sugary filling has leaked out, either through the bottom of a cake you didn't seal properly, or by boiling out the top of a cake.
You don't need to worry about this, unless you don't have a non-stick baking sheet. If you don't, it is best to use a fish slice to remove the eccles cakes from the tray and transfer them to a wire rack as soon as they come out of the oven. The leaked sugar filling hardens quite quickly, and will stick the eccles cakes to the tray if you don't do this.
Cool the eccles cakes on a wire rack and remove from the non-stick baking sheet after about 5-10 minutes of cooling. They are nice hot as well as cold, and can be re-heated at 150°C for 5 minutes.
One Response to "Eccles Cakes recipe"